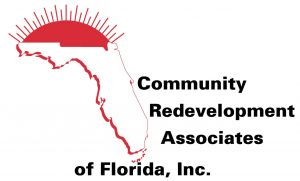 Some History
Established in 1990 Community Redevelopment Associates of Florida, Inc. (CRA) is an employee owned, urban affairs consulting firm based in Pembroke Pines, Florida. We provide a wide-range of services, of which federal and state grant planning, administration and implementation are primary. With a full-time staff of six multi-disciplinary professionals, we are prepared for any challenge.
CRA has developed a proven, cost-effective system for the administration of federal and state housing programs. Grant programs in which we specialize, but are in no way are limited to, include the Dept. of Housing and Urban Development Community Development Block Grant (CDBG) program, Neighborhood Stabilization Program (NSP), and Home Investment Partnership (HOME) program. Additionally, we have worked extensively in Florida's State Housing Initiative Partnership (SHIP) program.
The shaping of regulations that guide these federal and state grant programs have had input from our staff. CRA had representation on the Statewide Housing Needs Task Force which led to the passage of the State of Florida's Sadowski Affordable Housing Act. Housing programs have been developed and approved by the Florida Housing Finance Corporation, Fannie Mae and the U.S. Department of Housing and Urban Development.
CRA has been responsible for the development and/or subsequent administration of federal and state grant programs in numerous South Florida municipalities. These communities have included the cities of Pembroke Pines, Miramar, Margate, Tamarac, Plantation, Deerfield Beach, Cooper City, Lauderdale Lakes, Coconut Creek, Sunrise,  and West Palm Beach.
Uniquely, two of CRA's clients received their Entitlement or Urban County status as a direct result of our efforts. Successful challenges to the U.S. Bureau of the Census population estimates for Margate FL and Collier County FL were completed, resulting in their receipt of millions of dollars in grant funding.